My Motorola S9 Bluetooth headset had getting a bit long in the tooth and wasn't lasting very long between charges – time to replace the battery! Too bad that it's got a non-replaceable battery, but since when has that ever stopped me? (Maybe it should have. Spoiler warning: it was a nightmare.)

Getting a suitable replacement battery is the easiest part. The official battery is an SP0530AD, but a cheap 051235 battery off Aliexpress for $5 or so works fine as a replacement; a 611235 should fit too if you want a little extra capacity. The hard part is actually getting at the battery to replace it. It's located inside the big lump at the back of the headband, together with the electronics. Carefully peel away the rubber covering the inside back of the headband and the power button to reveal an access cover beneath a layer of clear tape and goop. Don't try and peel past the outside edges of the two shiny black bands – it won't come off and you will cause damage if you force it.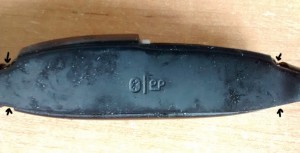 Having done that, you should be able to see that the two shiny black plastic bands are actually clips. Prise them off to reveal 4 tiny screws that hold the battery cover in place, one in each corner – they're kind of hidden by the goop and tape so you'll probably have to push it back a little to see and unscrew them.
Now you can very carefully peel up the clear tape covering the power button and prise the cover off along the top and bottom seams to reveal the battery. Be very cautious when doing this – the cover and headband are really fragile once separated and it's easy to damage them like I did. It doesn't help that there's rubber in your way whilst doing this. The flap over the charging socket will fall off, make sure to put it somewhere safe.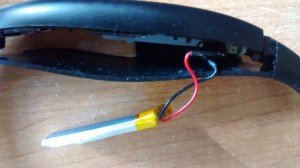 Once you're inside, you can peel the old battery off the PCB and either unplug it or just cut the wires and solder the new battery's leads onto them – make sure to protect the joints from shorting with heatshrink if you do that though. Finally, you can stick the new battery in place and carefully put everything back together. Don't forget to put the flap covering the charging socket back when slotting the battery cover back in place, and double-check it's still there before you screw the cover on, or you'll have to repeat the most fiddly part of the whole procedure! (I made this mistake more than once.) Finally, you can stick the rubber back in place.
If you're lucky you should now have a working Bluetooth headset with a fresh new battery – and hopefully it won't have to be patched back together with glue and prayers like mine now is.